19 Dec
It's Xmas week and a Sunday, so here's a seasonal message.
Dear Beloved in Christ,
It is by the grace of God that I received Christ, knowing the truth and the truth have set me free. Having known the truth, I had no choice than to do what is lawful and right in the sight of God for eternal life and in the sight of man for witness of Gods mercy and glory upon my life.
I am Mrs Caroline Solange Haafkens from Netherlands. My late husband acquired a considerable sum of money through his resourcefulness and effectiveness through the duration of his stay in Nigeria.
Oh. Next?
Thanks to J-Walk, I've discovered that Microsoft have a range of seasonal templates. Have a look at this Holiday Dinner Menu and try to work out what kind of meal would look so unappetizing.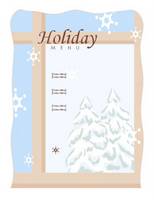 Actually, it may be my Xmas lunch; 'Er Indoors has gone up to Medan with Our Kid for a week, but has yet to sort out their return tickets.
Being a confirmed vegetarian does leave me with few options, mainly leaves.
In today's Observer Magazine Nigel Slater has this to say: If a vegetarian friend is for life, not just for Christmas, don't fob them off with the old nut roast (Hey, I love nut roast!) and offers Parsnip cakes with muchrooms (sic) and pine kernels. Sounds delicious, but considering that most of the ingredients are unavailable here, I may have to make do with his veggie paella, which is the Spanish version of nasi goreng (fried rice).
Still, music lover and mall hater that I am, at least I won't have to put up with the Mike Samme's Singers version of White Christmas. If you want it, you can get it here, but not here. For a better choice of sounds, I'd inveigle an invitation to Carl McCaskey's home because he says he's got 500 Xmas albums. And I want to hear this one.

My friend Derek, however, is a total Beatles nut; he's got every track they've ever recorded, which isn't bad considering that he was born after they'd split up. This also means that he wouldn't have been a member of the official Beatles' Fan Club. If he had been, then he would already be familiar with one or more of these records. The Beatles recorded them and sent them out to their adoring fans every year, finally collecting them all on one album for the 1970 edition. Now rare and quite pricey to obtain, these seldom heard recordings offer a rare glimpse of the fabs at their funniest. Download the MP3s here, Del.
The rest of us will have to make do with a corporate choir (requires Shockwave).