19 Oct
Trees' Company

1. Yesterday, a week after Wangari Maathai was deservedly awarded this year's Nobel Peace Prize for her contribution to sustainable development, democracy and peace (which are inseparable), the Jakarta Post published a photograph (not available online) of Hutan Kota – Pemuda (Pemuda City Forest) in Ciburbur, East Jakarta. The caption was simple: A large building is under construction in the 10-hectare Pemuda City Forest. There was not a single tree to be seen.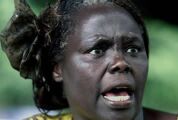 "Why are we creating environmental havoc in urban areas?"
To residents of Jakarta, this is so commonplace that it fails to shock. What does raise eyebrows today is the news that the City Parks Agency is buying up six slum areas in order to add to the 54 community parks. It's nice to know that there are some positive initiatives to be found here.
2. Some twenty years ago, I hopped on a Greyhound bus in San Francisco and headed north to Oregon; I wanted to be dropped off en route so I could hug a redwood tree. It was winter, so the bus didn't stop in Sequoia National Park. But I did spend a very pleasant sociable evening in a Eureka pub, with a gift of a six-pack for the return bus ride south.
3. Haze is still shrouding much of Indonesia and Malaysia. Until the rainy season arrives and dampens the ardour of those responsible for the denuding of this country, then we must support the efforts of NGOs here such as WALHI and WARSI and all those who think globally.